Evolution of a Femdom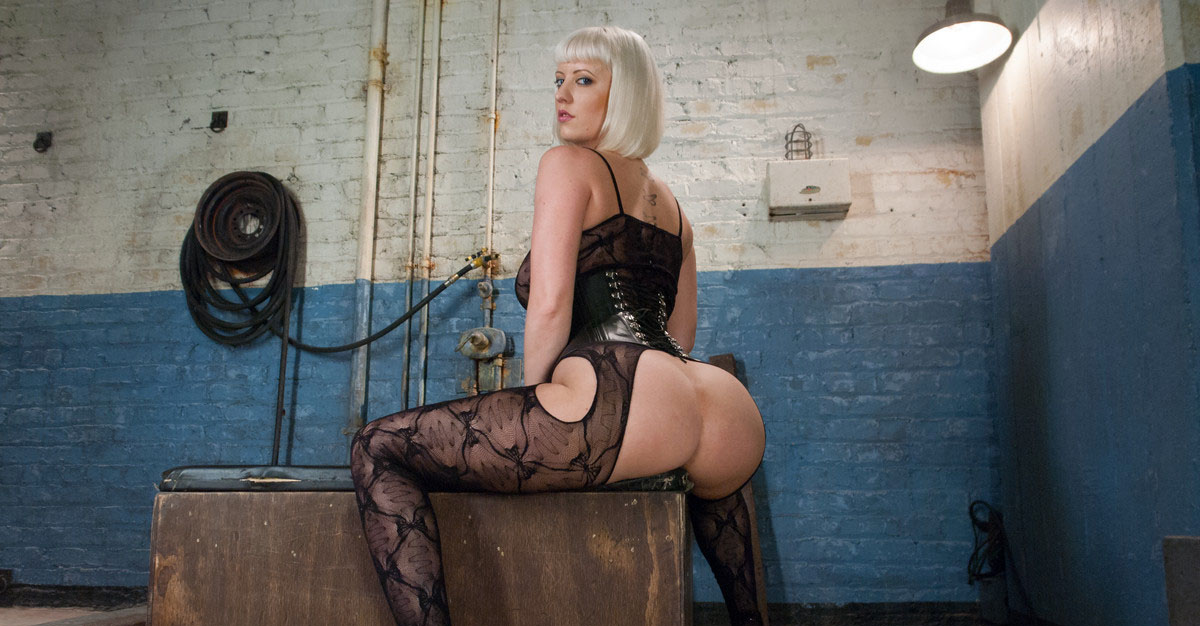 It's very stereotypical to make grand plans for January…like ya know actually completing a personal blog in a timely manner. I'll just add that lovely little concept to the long list of things I'd like to improve on this year, and we'll just pretend this was posted 3 months ago mmkay?
For the first time in a while my year has started with exciting new changes instead of tired personal drama. Life is stable, my relationship is better than ever and work has taken an interesting turn as of late. 2014 is shaping up to be the year of the porno dominatrix. Last year was a thorough toe dip into private sessions, but doing it on camera is a challenge of a different sort…
This latest evolution in my career came about in the same arduous way most things in my life have. Namely when my anxious brain was good and fucking ready, not a second before. If living with anxiety has done anything for my work, it has at least forced me to make very deliberate choices. Stepping outside of my comfort zone is a struggle, so the process of shutting up my inner angst has to be worth it.
And this time it definitely was. I couldn't have pulled a dominant performance out of my ass before I was prepared to fling myself at it 100%. I'm sure any of you religious Upper Floor watchers could confirm. I had excellent opportunities to flex my switchy side on TUF, but my heart just wasn't in it yet. I had to deliberately face my fears first. As some melodramatic Tumblr wisdom put it; I had to learn to take up space, make noise and demand attention. Pretty much the opposite of everything I had based my career on.
Private sessions prepared me as best they could, but wrangling older men just doesn't quite compare to the complexities of making a Femdom movie. It's one thing to create an unforgettable experience for a submissive who wants to be there so bad he's willing to pay for the privilege. You get to take all aspects of the sub into account; their past experiences with BDSM, what kinks they are into at that moment, etc. You do things to them, read their responses and adjust accordingly until their little brain blows out their ear. That is easy as pie…
But unlike sessions with horny dudes, making a porno is all about putting on a show for the viewer. What the sub is and isn't into is useful knowledge, but it holds little sway on what the scene actually looks like. It's more about what they are willing to tolerate for the sake of making an amazing movie.
As the top your most important contribution is being a talker. For a lot of movies these days what you're doing to the sub is almost less important than letting the filthy words fly with no shame. It's a skill I've always admired, but until recently felt like a foreign language. I just avoided the issue by surrounding myself with friends and lovers who excelled at it so I didn't have to. The last six months have been a repetitive trial by fire, but the verbal fluidity gets more and more second nature with every attempt.
Getting confident in my dialogue has made the pre-shoot stress cycle a lot simpler. Instead of binge watching femdom porn to cram all the keywords into my head, I just relax and prepare to unleash a veritable torrent of energy on set. Pushing myself between action and cut is simple, but what I never had to consider before was how the dom's attitude can affect everyone even when the camera isn't rolling.
It's a delicate skill breaking through that awkwardness between performers, knowing they're about to fuck. Even more awkward when they are fresh meat with no idea what to expect. Often they are teenagers or barely older, maybe with very little industry experience under their belt and minimal knowledge of BDSM. Those brief moments of rest between the many hours they spend somewhere on the scale of discomfort to genuine pain are important. The bottoms might be paid to be there, but as the dom you still have to inspire that willingness to push themselves even after they're raw and the paycheck is guaranteed.
The last 6 months have been a total mindfuck. For 9 years I WAS that submissive energy always, now I am the one trying to finesse it. I've had to reevaluate the way I approach my work from my presence on set to my marketing. Aspiring to be that "trustworthy authority figure", for lack of a better phrase, has actually trained me to approach a lot of things in my life with more confidence.
But some skills you learn at work come home with you easier than others. I've always been more of an introvert than the life of the party. Always listening and painfully aware, but never eager to interface with other humans. Better at action than words. Communicating shamelessly outside of my whore bubble is a work in progress, but fully taking on that dominant persona at work is starting to bleed over into day to day life.
Despite the negative stereotypes that follow porn performers, my job has given me countless opportunities to challenge myself and grow as a person. The process is not always pretty, but I've conquered so many personal demons as I've grown in this industry. Now the real challenge will be learning how to talk feelings as well as I can talk dirty.