Cherry's Chastity Game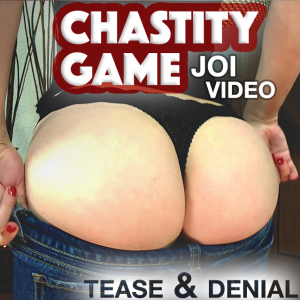 Your poor pent up cock has been locked up in chastity for a month, but today is your lucky day!
Get your dicklet hard, because we're going to play a kinky jerking game.
You're gonna stroke your little prick while I try on all these slutty outfits for my hot date tonight.
I have to pick just the right one, so all the strong Alpha men will be forced to pay attention. Do you think this striped dress is cute? Or maybe this pink pencil skirt?
I think maybe my giant ass in these teeny little shorts will work. Or should I just go full whore and wear two degrees more than lingerie?
I need your help little cuck, so pay attention! If you can hold out until the end of my cum countdown I just might let you blow your gross pent up load! Maybe. 😉
Cherry's Chastity Game:  

Want A stroke-worthy 8 second preview GIF of Cherry's Chastity Game? Send your tribute to see Me pull my dress over my head, squeeze my fat bubble butt into tiny shorts and a teasing upskirt of my booty jiggling right in your desperate face.
Cherry's Chastity Game Preview GIF:  
Stroke away perv. You're welcome. 😉
xx
Miss Torn